– The Inner Sounds of Healing –
We are happy to announce the Concert of the Dhrupad Master Singer Ustad Wasifuddin Dagar, for the first time in the Netherlands.
Date: Monday 12 June 2023
Time: 20:00
Venue: Blisveld Farm, Tellingstraat 9, 6996DZ Drempt, (Netherlands)
Tickets: 25,00 € at the gate
For information and bookings contact: dhrupadparis@gmail.com 
Do not miss this rare opportunity to listen to the foremost master of this divine art form.
About the Master: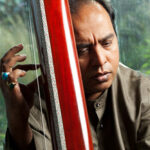 Dhrupad singing is regarded as the most ancient and rigorous form of classical vocal music in India. The term refers to both the musical form as a whole and to one of its three parts, composed of singing with percussion accompaniment.
Ustad F. Wasifuddin Dagar is a member of the esteemed Dagar family and represents the 20th generation of an unbroken chain of dhrupad singers and veena players. Wasifuddin is a renowned teacher and performer and helps carry on the familial tradition by organizing dhrupad festivals founded by his father and uncle in Delhi and Jaipur. He has made several concert tours in Austral-Asia, Europe, and North America including performances at the Smithsonian Institution and Harvard University.